TCNJ has it's own APP called "TCNJ Connect", developed by students as part of an undergraduate research project in Computer Science.  There is both an Android and iPhone version:
For the iPhone: TCNJ Connect
For the Android:  TCNJ Connect
________________________________________________________________________________________________
In addition, check out these Mental Health/Safety Plan APPS for your smartphone. These FREE APPS will allow you to have easy access to critical mental health resources when you need them the most. When you are in the midst of a mental health emergency or crisis, you don't want to waste precious time looking for contact information for resources and hotlines. These APPS will help.
For the iPhone: Safety Plan
For the Android: Suicide Safety Plan
For Windows: Safety Net
**Once you download the APP onto your phone, make sure you add the emergency numbers you will need. If you are working with a mental health professional, work with them to make sure you have included all the important emergency contacts in your APP. Here are a few of the local hotlines and resources you should consider adding into your phone:
Capital Health Emergency Services: 609.396.4357
NJ Hopeline: 855.654.6735
Trevor Lifeline (LGBTQ): 866.488.7386
Veterans Crisis Line: 800.273.8255
TCNJ Campus Police: 609.771.2345
__________________________________________
Here are a few other APPS (and/or Internet Sites) that you might find useful for your health and well-being:
Unwind HD combines calming ambient sounds and soothing visual scenes to create the ultimate relaxation app for your iPad or iPhone.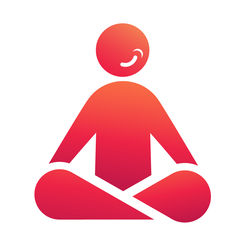 10% Happier is a clear, simple approach to meditation with a NY Times bestselling author and some of the most respected (and cool) meditation teachers on the planet. Designed for skeptics, built to help you keep it going.
  7 Cups of Tea:
7 Cups of Tea is an on-demand emotional health and well-being service. Our bridging technology anonymously & securely connects real people to real listeners in one-on-one chat. Anyone who wants to talk about whatever is on their mind can quickly reach out to a trained, compassionate listener through our network. We have hundreds of listeners who come from all walks of life and have diverse experiences. People connect with listeners on 7 Cups of Tea for all kinds of reasons, from big existential thoughts to small, day-to-day things that we all experience. Unlike talking to family or friends, a 7 Cups of Tea listener doesn't judge or try to solve problems and say what to do. Our listeners just listen. They understand. They give you the space you need to help you clear your head.
  MoodGYM:
MoodGYM is a free, interactive self-help program that provides cognitive behavior therapy (CBT) training in order to help users prevent and cope with depression. Work through the modules at your own pace and at a time that is convenient for you.
wayForward:
Overcome anxiety and nervousness related to social situations with short 5-10 minute sessions based on science.  wayForward helps people achieve their best in situations such as interviewing, public speaking, dating or social gatherings. Daily sessions equip users with knowledge and techniques to help them overcome anxiety, with the goal of enhancing emotional wellbeing and improving their everyday life. The program uses evidence-based approach of Cognitive Behavior Therapy, designed by our team of leading researchers and clinicians.
betterhelp
BetterHelp is the largest online counseling platform worldwide. We change the way people get help facing life's challenges by providing convenient, discreet and affordable access to a certified therapist. BetterHelp makes professional counseling available anytime, anywhere, through a computer, tablet or smartphone.  Here's how it works: You and your counselor will get a dedicated "room", which will be your private and secure place to communicate. This room is open 24/7. You can enter it at any time, from any Internet-connected device wherever your are. In this room, you will write about yourself, the things going on in your life, ask questions and discuss the issues that trouble you. Your counselor will login to the same room, read your messages and respond with feedback, insights, and guidance. Your counselor will help you learn about the issues that hold you back and prepare you to move forward. This ongoing one-on-one dialog is the basis of your work with your counselor. Together you will build towards making a positive change in your life and accomplishing your goals.